Jagged Edge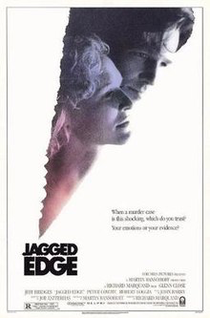 JAGGED EDGE (18)
Columbia (Martin Ransohoff)
Ed: Sean Barton & Conrad Buff
Jeff Bridges (Jack Forrester), Glenn Close (Teddy Barnes), Peter Coyote (Thomas Krasny), Robert Loggia (Sam Ransom), John Dehner (Judge Carrigan)
Jagged Edge is a courtroom thriller which will keep you on tenterhooks throughout the running time.
Glenn Close plays a female defence lawyer hired by Jack Forrester, a newspaper publisher accused of murdering his wife and the two develop a sexual relationship. 
The district attorney pressing charges bears a grudge against Jack, and appears to be bending the law to his own advantage, but the truth becomes blurred throughout the trial until the film's climax.
A well-directed and incredibly well written courtroom mystery with some splendid performances. The plot is a gender switch on the same screenwriter's 'Basic Instinct', but written much earlier and with a less tawdry approach to its subject matter.
7/10