Jack the Giant Slayer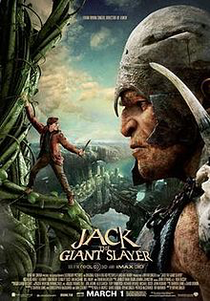 JACK THE GIANT SLAYER (12)
D: Bryan Singer
Warner Bros/New Line/Legendary/Original/Big Kid/Bad Hat Harry (Neal H. Moritz, David Dobkin, Bryan Singer, Patrick McCormick & Ori Marmur)
US 2013
114 mins
Fantasy/Adventure
W: Darren Lemke, Dan Studney & Christopher McQuarrie [based on the traditional stories "Jack The Giant Killer" and "Jack & The Beanstalk"]
DP: Newton Thomas Sigel
Ed: John Ottman & Bob Ducsay
Mus: John Ottman
Nicholas Hoult (Jack), Eleanor Tomlinson (Isabelle), Stanley Tucci (Lord Roderick), Ian McShane (King Brahmwell), Ewan McGregor (Elmont)
Despite being originally titled Jack The Giant Killer, this is not a remake of the 1962 fantasy film. It is rather a re-imagination of the fairy tale Jack & The Beanstalk and a folk tale from medieval England.
Anyone familiar with the fairytale will know the majority of the plot, but a bit of romance is shoved into this story, with Jack climbing the beanstalk to enter the land of the giants to rescue a princess, rather than steal gold eggs.
It's quite unfortunate that the film was given a 12 age rating, since the only people who are likely to get any enjoyment from this film will be below that age. For everyone else, it's pretty run-of-the-mill, with inexcusably bad visual effects considering the cost of production was reportedly $195 million.
4/10