Jack & Jill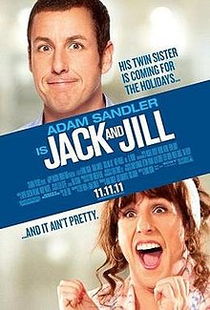 JACK & JILL (PG)
Columbia/Happy Madison (Adam Sandler, Jack Giarraputo & Todd Garner)
W: Steve Koren & Adam Sandler
Mus: Rupert Gregson-Williams & Waddy Wachtel
Adam Sandler (Jack Sadelstein), Adam Sandler (Jill Sadelstein), Katie Holmes (Erin Sadelstein), Al Pacino (himself), David Spade (Monica)
Whether you like him or not, you get a double dose of Adam Sandler in Jack & Jill, as he plays both twins in this woefully unfunny comedy which swept the board at the Golden Raspberry Awards, winning in every single category in which it was nominated for a record haul of 10 'awards'. 
Jack is an advertising producer whose obnoxiously annoying twin sister, Jill, is arriving for the holidays. Al Pacino (playing himself) becomes obsessed with Jill for some reason, which is perfect for Jack, who requires Al Pacino for a Dunkin Donuts commercial.
The whole film can be summed up with Pacino's reaction to the TV advert when he uses the words "Burn this. Every single copy. It must not be seen by anyone".
1/10