The Island of Dr. Moreau (1977/1996)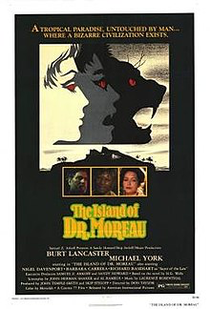 THE ISLAND OF DR. MOREAU (15)
AIP/Cinema 77 (Skip Steloff & John Temple-Smith)
W: John Herman Shaner & Al Ramrus [based on the story by H.G. Wells]
Burt Lancaster (Dr. Moreau), Michael York (Andrew Braddock), Nigel Davenport (Montgomery), Barbara Carrera (Maria), Richard Basehart (Sayer of the Law)
In the early 20th century, a sailor becomes shipwrecked on an island where a mad scientist creates a group of half-man, half-beast creatures.
Certain elements of the production are incredibly well done considering the age of the film, but the story is very much a weak link, serving only as a platform to showcase John Chambers' impressive makeup creations.
4/10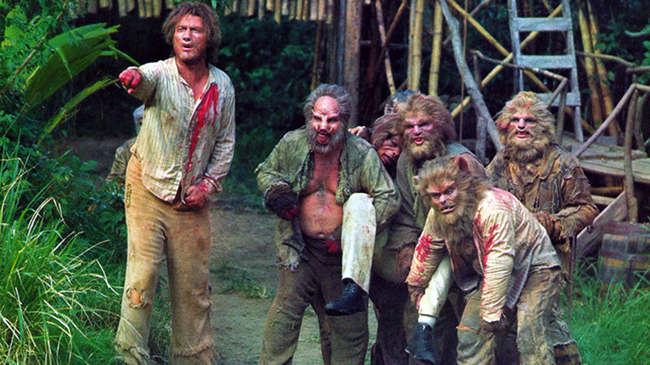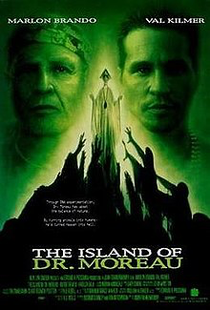 THE ISLAND OF DR. MOREAU (15)
Entertainment/New Line (Edward R. Pressman)
W: Richard Stanley & Ron Hutchinson [based on the story by H.G. Wells]
Marlon Brando (Dr. Moreau), Val Kilmer (Dr. Montgomery), David Thewlis (Edward Douglas), Fairuza Balk (Aissa), Ron Perlman (Azazello)
Bigger budget remake of the above with the focus on CGI effects rather than physical transformations using prosthetics and makeup effects.
The story manages to be even more boring and incoherent here, with Marlon Brando chipping in with a batshit crazy cameo appearance. 
The film was a flop, only grossing £28m back from its budget of £50m.
3/10