The Iron Giant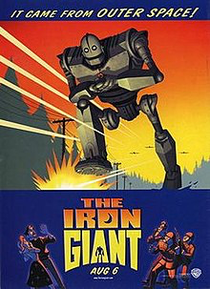 THE IRON GIANT (U)
Warner Bros. (Allison Abbate & Des McAnuff)
W: Tim McCanlies [based on the book "The Iron Man" by Ted Hughes]
voices of: Vin Diesel (The Iron Giant), Jennifer Aniston (Annie Hughes), Eli Marienthal (Hogarth Hughes), Harry Connick, Jr. (Dean McCoppin), Christopher McDonald (Kent Mansley)
An animated film as much for adults as it is for children, perfectly capturing the feel and paranoia of a 1950's B-movie.
Set in 1957, a young boy discovers a giant iron robot and protects it from the US government, who are convinced is a communist weapon and aim to destroy it.
Surprisingly, this film didn't perform very successfully at the box office. It really deserved better.
8/10