The Ipcress File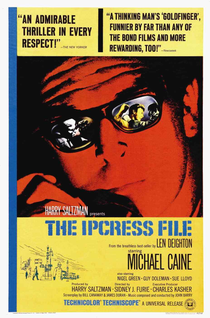 THE IPCRESS FILE (PG)
D: Sidney J. Furie
Rank/Lowndes (Harry Saltzman)
UK 1965
109 mins
Crime/Thriller
W: Bill Canaway & James Doran [based on the novel by Len Deighton]
DP: Otto Heller
Ed: Peter Hunt
Mus: John Barry
PD: Ken Adam
Michael Caine (Harry Palmer), Guy Doleman (Colonel Ross), Nigel Green (Major Dalby), Sue Lloyd (Jean Courtney), Gordon Jackson (Carswell)
The James Bond films' cockney cousin, providing Michael Caine with his breakthrough role as Harry Palmer, a working class spy who investigates a series of British agents being brainwashed by an underground criminal organisation.
Certain elements are dated, and it does feel like it's riding a little too much on the coattails of the Bond movies successes, but it's still a great deal better than some of the 007 movies.
Caine is simply perfect in the role, and some of the cinematography is very well done. BAFTA noticed this, rewarding Otto Heller for his work.
7/10