The Intouchables / The Upside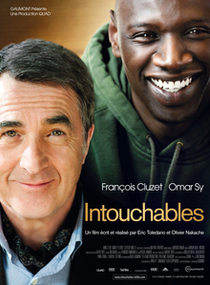 THE INTOUCHABLES (aka UNTOUCHABLE) (15)
D: Olivier Nakache & Eric Toledano
Gaumont (Nicolas Duval-Adassovsky, Laurent Zeitoun, Yann Zenou & Harvey Weinstein)
France 2011 (released 2012)
W: Olivier Nakache & Eric Toledano
François Cluzet (Philippe), Omar Sy(Bakary 'Driss' Bassari), Audrey Fleurot (Magalie), Anne Le Ny (Yvonne), Alba Gaïa Kraghede Belludi (Elisa)
This French movie is proof that a well-written screenplay is the driving force behind a good movie.
It follows the true story of a man from a Paris ghetto who becomes a carer for a rich paraplegic and the friendship which develops between the two diverse characters from opposite backgrounds. 
The chemistry between the two leads is fantastic and the drama is bittersweet without being manipulative.          
It's a crime that this movie wasn't nominated for a Foreign Language Film Oscar! Personally, I'd have it as one of the very best films of 2011, period.
8/10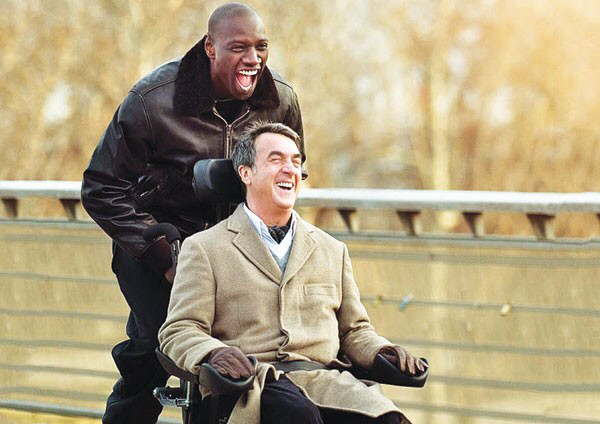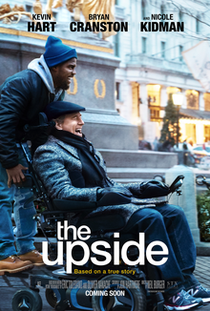 THE UPSIDE (15)
D: Neil Burger
STX/Lantern/Escape Artists (Todd Black, Jason Blumenthal & Steve Tisch)
US 2017 (released 2019)
126 mins
Drama/Comedy
W: Jon Hartmere [based on the screenplay "The Intouchables" by Olivier Nakache & Eric Toledano]
DP: Stuart Dryburgh
Ed: Naomi Geraghty
Mus: Rob Simonsen
Bryan Cranston (Philip Lacasse), Kevin Hart (Dell Scott), Nicole Kidman (Yvonne Pendleton), Aja Naomi King (Latrice), Jahi Di'Allo Winston (Anthony), Tate Donovan (Carter)
The 2012 French film The Intouchables really didn't need a remake, but it still got the American treatment, relocating the setting from Paris to Philadelphia but leaving the rest of the plot mostly untouched.
The film depicts the true story of a billionaire quadriplegic and his unlikely friendship with a petty thief parolee who takes a job as his career so he can pay off alimony.
The French original is head and shoulders above this remake, but this American version work reasonably well due to the performances and on-screen chemistry of Bryan Cranston & Kevin Hart. If it weren't for the actor's fine work, this would feel a lot more predictable and clichéd than it actually does, especially since the 2007 film The Bucket List also plays on quite similar themes.
This did meet with some distribution issues, spending two years in limbo following the Harvey Weinstein scandal until it was eventually picked up by STX for release.
5/10