The Intouchables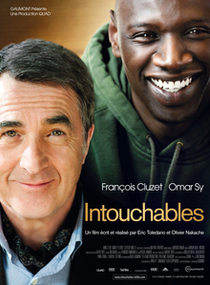 THE INTOUCHABLES (aka UNTOUCHABLE) (15)
D: Olivier Nakache & Eric Toledano
Gaumont (Nicolas Duval-Adassovsky, Laurent Zeitoun, Yann Zenou & Harvey Weinstein)
W: Olivier Nakache & Eric Toledano
François Cluzet (Philippe), Omar Sy(Bakary 'Driss' Bassari), Audrey Fleurot (Magalie), Anne Le Ny (Yvonne), Alba Gaïa Kraghede Belludi (Elisa)
This French movie is proof that a well-written screenplay is the driving force behind a good movie.
It follows the true story of a man from a Paris ghetto who becomes a carer for a rich paraplegic and the friendship which develops between the two diverse characters from opposite backgrounds. 
The chemistry between the two leads is fantastic and the drama is bittersweet without being manipulative.          
It's a crime that this movie wasn't nominated for a Foreign Language Film Oscar! Personally, I'd have it as one of the very best films of 2011, period.
8/10