The Inbetweeners (1 & 2)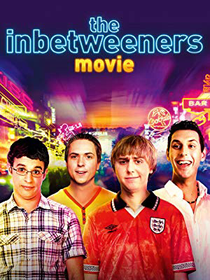 THE INBETWEENERS MOVIE (18)
Film4/Bwark (Christopher Young)
W: Damon Beesley & Iain Morris [based on characters from the television show]
Ed: William Webb & Charlie Fawcett
Simon Bird (Will Mackenzie), James Buckley (Jay Cartwright), Blake Harrison (Neil Sutherland), Joe Thomas (Simon Cooper)
For those who haven't watched the TV show, The Inbetweeners was arguably the funniest British comedy to hit television screens in well over a decade. The misadventures of a group of senior school teenagers who are far from cool but aren't quite prefects either, doing the things regular teenagers do- badly.
The film really shouldn't be watched if you're unfamiliar with the series, as it follows on from the end of final series, with our four young gents embarking on their first lads holiday.
The big screen transition captures the general essence of the TV show but is all bigger, louder, faster, more. There's some funny moments, but the majority are just recycled from the original series and grossly exaggerated.
The TV show really deserved a fourth season rather than hitting the big screen, and there's no doubt it would have been funnier than what's offered here, which is very hit and miss.
6/10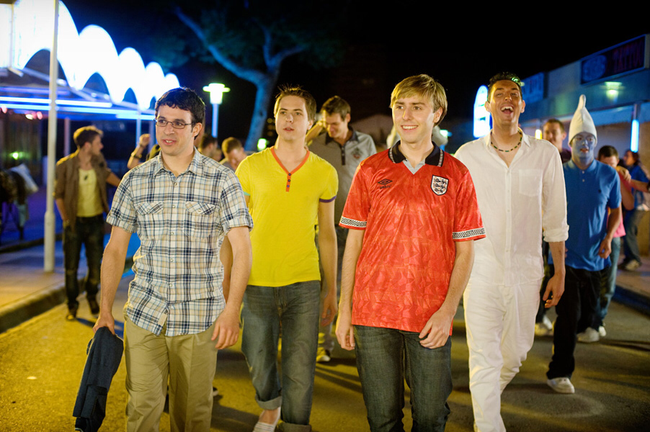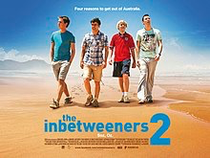 THE INBETWEENERS 2 (18)
D: Damon Beesley & Iain Morris
Film4/Bwark (Spencer Millman)
W: Damon Beesley & Iain Morris [based on characters from the TV show]
Mus: David Arnold & Michael Price
Simon Bird (Will Mackenzie), James Buckley (Jay Cartwright), Blake Harrison (Neil Sutherland), Joe Thomas (Simon Cooper)
Since the first film to follow on from the TV series was such a box office success (on British shores at least), it was inevitable that another film was due.
Unfortunately, the comedy all goes South, quite literally, as the hapless teenage quartet venture off to Australia so one of them can reunite with a lost love.
There's some promise in the plot when the friends join a pretentious group of backpackers, but that's lost when they head off to the outback for an endless barrage of puerile shit & piss gags and low blows which pummel fond memories of the TV show into an unrecognisable pulp. 
The first film had its faults but at least it presented a believable (yet still over the top) set of circumstances which happen on a "lad's holiday", tying up all the loose ends from the excellent comedy series and even giving the much-loved characters their own happy endings.
This film ruined all that in the quest for a shameless cash grab, and would be far more respectable if it went with the title "Four Dickheads in Australia". 
4/10