The Ides of March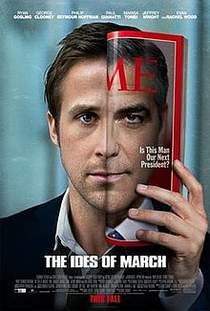 THE IDES OF MARCH (15)
Columbia/Smokehouse/Appian Way (George Clooney, Grant Heslov & Brian Oliver)
W: George Clooney, Grant Heslov & Beau Willimon [based on the novel "Farragut North" by Beau Willimon]
Ryan Gosling (Stephen Meyers), George Clooney (Mike Morris), Philip Seymour Hoffman (Paul Zara), Paul Giamatti (Tom Duffy), Evan Rachel Wood (Molly Stearns), Marisa Tomei (Ida Horowicz), Jeffrey Wright (Franklin Thompson)
The Ides of March is an America-centric political drama set during an unspecified election year.
An idealistic young staffer for a presidential candidate gets thrown into the deep end of dirty politics, backstabbing and bribery while working on the campaign.
Like many films of its ilk, it's a film which will mean more on American shores than overseas, but fantastic performances from an impressive ensemble cast and a great script of zesty, poisonous dialogue make this an entertaining watch, although the finished product is not particularly memorable.
7/10