It's A Wonderful Life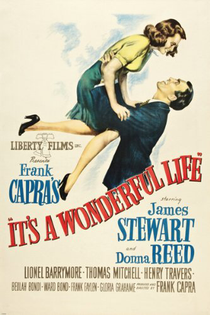 IT'S A WONDERFUL LIFE (U)
D: Frank Capra
RKO/Liberty (Frank Capra)
W: Frank Capra, Frances Goodrich & Albert Hackett
DP: Joseph Walker & Joseph Biroc
James Stewart (George Bailey), Donna Reed (Mary Hatch), Thomas Mitchell (Uncle Billy), Lionel Barrymore (Mr. Potter), Henry Travers (Clarence), Beulah Bondi (Mrs. Bailey), Gloria Grahame (Violet Bick)
Perennial Yuletide classic, which failed to generate much business on its original release in 1946, but has gone on to become one of the all-time festive favourites.
George Bailey (James Stewart) is prevented from committing suicide on Christmas Eve by his guardian angel, who shows him what life would have been like for his family and friends had he never been born in the first place.
The whole film is a twist on Dickens' "A Christmas Carol" without the Scrooge element and is dusted with Frank Capra's usual magic.
Regardless of whether or not you believe in angels, this film will enchant even the most cynical souls.
10/10