It Happened One Night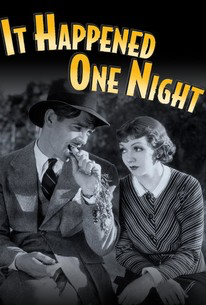 IT HAPPENED ONE NIGHT (U)
D: Frank Capra
W: Robert Riskin [based on the story "Night Bus" by Samuel Hopkins Adams]
Clark Gable (Peter Warne), Claudette Colbert (Ellie Andrews), Walter Connelly (Alexander Andrews), Roscoe Carns (Oscar Shapeley), Alan Hale (Danker)
Times may have changed since 1934, but the influence of Frank Capra's classic screwball comedy It Happened One Night is still prevalent, even in modern romantic comedies.
A spoiled runaway heiress is followed across America by a charming reporter and though their journey brings much misadventure, the couple end up falling in love.
As well as Capra sprinkling his own touch of magic on the film, the chemistry between the two leads makes it unmissable. This was the first film to win the "big 5" Oscars (Best Film, Actor, Actress, Director & Screenplay). Only two other films have achieved the feat since.
8/10