It Could Happen to You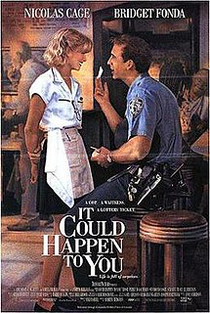 IT COULD HAPPEN TO YOU (12)
Columbia Tristar (Mike Lobell)
Nicolas Cage (Charlie Lang), Bridget Fonda (Yvonne Biasi), Rosie Perez (Muriel Lang), Wendell Pierce (Bo Williams), Isaac Hayes (Angel Dupree)
A mildly engaging feelgood Rom-Com which lacks feasibility but uses enough Hollywood magic to make it borderline convincing.
Nicolas Cage plays a married cop, who keeps his promise to split his lottery winnings with her after being short on his tip, even though his lottery winnings are four million dollars. His charity donation obviously causes friction between him and his wife.
The performances make the film slightly engaging, although if Bridget Fonda played the wife and Rosie Perez was the waitress, this might have been a completely different film.
5/10