Invaders from Mars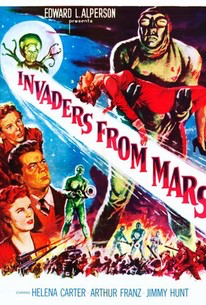 INVADERS FROM MARS (PG)
D: William Cameron Menzies
20th Century Fox (Edward L. Alperson) 
PD: William Cameron Menzies
Jimmy Hunt (David MacLean), Helena Carter (Patricia Blake), Arthur Franz (Stuart Kelston), Leif Erickson (George MacLean), Hillary Brooke (Mary MacLean)
In a remote farmyard community, Martian invaders brainwash humans as spies and saboteurs.
Invaders From Mars is one of the original and more classic science fiction B-movies which seems very dated now, but is still quite impressive for its age.
Comparisons will most certainly be made with the original Invasion Of The Body Snatchers (qv) film, released two years later, which has a much more foreboding sense of dread and paranoia. Still, Invaders From Mars can be considered as a milestone for the genre, providing a fine directorial debut for William Cameron Menzies, who previously plied his trade as a production designer and art director for the movies.
6/10