Internal Affairs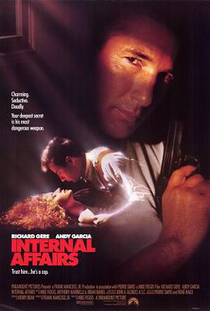 INTERNAL AFFAIRS (18)
D: Mike Figgis
Paramount (Frank Mancuso, Jr.)
US 🇺🇸 1990
115 mins
Crime/Thriller
W: Henry Bean
DP: John A. Alonzo
Ed: Robert Estrin
Mus: Brian Banks, Mike Figgis & Anthony Marinelli
Richard Gere (Dennis Peck), Andy Garcia (Raymond Avilla), Nancy Travis (Kathy Avilla), Laurie Metcalf (Amy Wallace), William Baldwin (Van Stretch), Annabella Sciorra (Heather Peck), Faye Grant (Penny Stretch)
A slow-boiling police thriller that plays off the animosity between the two lead characters, a straight-laced internal affairs officer, new to the job (Andy Garcia) and a womanising, manipulative cop who lives a double life and always appears to be playing it straight (Richard Gere).
Those expecting a run of the mill cop thriller might be disappointed with the lack of action, as it really isn't that sort of movie. It's more a psychological game of chess between the two men who become increasingly obsessed with trying to trip up the other.
Mike Figgis does an excellent job calling the shots to deliver a thriller that slowly cranks up the tension, and though the final act does descend into cliche territory, it's kept fresh by the excellent performances, especially from Laurie Metcalf, William Baldwin and the two leads who apparently disliked each other in real life and some of the blows they trade in the film were rumoured to be for real.
7/10