Insomnia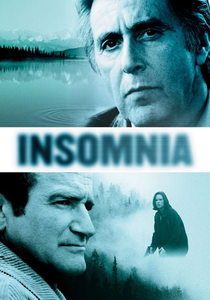 INSOMNIA (15)
Alcon (Paul Junger Witt, Edward L. McDonnell, Broderick Johnson & Andrew Kosove)
W: Hillary Seitz [based on a screenplay by Nikolaj Frobenius & Erik Skjoldbjaerg]
Al Pacino (Det. Will Dormer), Robin Williams (Walter Finch), Hilary Swank (Det. Ellie Burr), Maura Tierney (Rachel Clement), Martin Donovan (Det. Hap Eckhart)
Insomnia is a remake of a 1997 Norwegian film of the same title, starring Al Pacino & Martin Donovan as two LA detectives who travel to a remote Alaskan town inside the Arctic Circle to investigate a schoolgirl's murder.
Pacino doesn't cope with the perpetual daylight as well as his partner, setting up a deadly game of cat-and-mouse with the sociopathic main suspect (Robin Williams, brilliantly cast against type).
Fine acting and incredibly atmospheric, this is one US remake which does huge justice to its original source.
7/10