Innerspace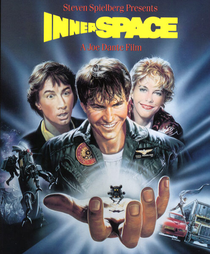 INNERSPACE (PG)
Warner Bros./Amblin/Guber-Peters (Michael Finnell)
W: Jeffrey Boam & Chip Proser
Dennis Quaid (Lt. Tuck Pendleton), Martin Short (Jack Putter), Meg Ryan (Lydia Maxwell), Kevin McCarthy (Victor Scrimshaw), Fiona Lewis (Dr. Margaret Canker), Robert Picardo (The Cowboy), Vernon Wells (Mr. Igoe)
Fantastic Voyage for the 1980's.
A roguish Air Force pilot volunteers for a scientific experiment where he and his vessel are miniturised and injected into the bloodstream of a lab rabbit. However, he inadvertently ends up inside a supermarket clerk while a group of bad guys are on the chase to find the original vessel and steal the microchip which achieves miniturisation.
Innerspace is another 1980's film for which Steven Spielberg served as executive producer and his style is emblazoned across it. A curious mix of science fiction, adventure, comedy and romance which does work quite well, but is also a little childish in parts.
Dennis Quaid & Martin Short form a good double act despite rarely appearing on screen together and some of the visual effects are incredibly well realised.
7/10