Indiana Jones (film series)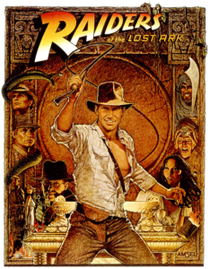 RAIDERS OF THE LOST ARK (PG)
D: Steven Spielberg
Paramount/Lucasfilm (Frank Marshall)
W: Lawrence Kasdan, Philip Kaufman & George Lucas
DP: Douglas Slocombe
Ed: Michael Kahn
Mus: John Williams
PD: Norman Reynolds
Harrison Ford (Indiana Jones), Karen Allen (Marion Ravenwood), Paul Freeman (Belloq), Ronald Lacey (Toht), John Rhys-Davies (Sallah), Denholm Elliott (Marcus Brody), Alfred Molina (Satipo)
The film which introduced cinema to Indiana Jones, an archaologist and explorer who must find the fabled Ark of the Covenant, an ancient artefact of great power, before the Nazi's do, who believe that possession of the relic will make their army unstoppable.
This hugely successful collaboration between director Steven Spielberg and writer George Lucas brought the style and excitement from Saturday morning TV adventure serials from the previous generation to a brand new audience and revitalised the adventure genre in the same way Star Wars reinvigorated science fiction.
The film is generally a series of intrepid set pieces, with a bit of exposition in-between, and though it could be seen as nonsensical gibberish, the craft put into the production design, visual effects and other technical aspects of the film make the story feel incredibly convincing.
Harrison Ford is the perfect choice for the film's hero, bringing coolness and charm to the rugged physical appearance of the character. Other characters are underwritten, but when a film is this much fun, who cares?
Raiders Of The Lost Ark was amongst the most successful films of the 1980's, generating three sequels and a huge number of spinoffs and ripoffs. 
A personal favourite of mine, as it should be for anyone who grew up during the 1980's.
10/10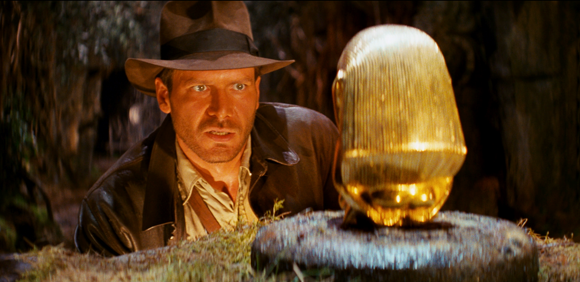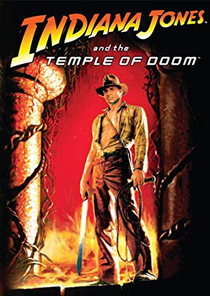 INDIANA JONES & THE TEMPLE OF DOOM (PG)
Paramount/Lucasfilm (Robert Watts)
W: Gloria Katz & Willard Huyck [based on characters created by George Lucas & Philip Kaufman]
Mus: John Williams
PD: Elliot Scott
Harrison Ford (Indiana Jones), Kate Capshaw (Willie Scott), Ke Huy Quan (Short Round), Amrish Puri (Mola Ram), Roshan Seth (Chattar Lai), Philip Stone (Capt. Blumburtt), Roy Chiao (Lao Che), David Yip (Wu Han)
Preceding the events in Raiders Of The Lost Ark (qv), this prequel sends intrepid archaeologist Indiana Jones to a remote Indian village after he narrowly escapes with his life in Shanghai, his young companion, Short Round, and a prissy showgirl in tow.
The villagers, living in poverty, blame their misfortunes on a satanic Thugee cult living in the catacombs of an ancient palace, stealing the village's magical stones as well as all their children.
The adventure from the previous film is turned up a notch, including some excessive horror for a PG-rated film (the infamous heart-ripping scene a prime example). Like Raiders, it's a fantastic tribute to Saturday afternoon adventure serials but unfortunately it does come with it's share of irritants, Kate Capshaw's odious performance one of them, and how Steven Spielberg got away with the casual racism remains a mystery (the filming actually had to take place in Sri Lanka after Indian authorities refused to approve of the script).
Watch out for a blink-and-you'll-miss-it cameo from Dan Aykroyd.
7/10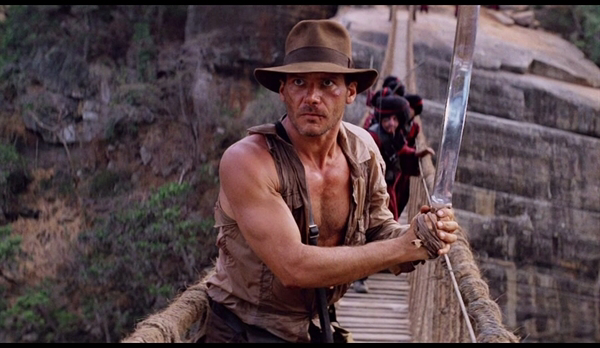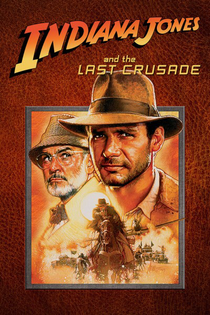 INDIANA JONES & THE LAST CRUSADE (PG)
Paramount/Lucasfilm (Robert Watts)
W: Jeffrey Boam [based on characters created by George Lucas & Philip Kaufman] 
Mus: John Williams
Cos: Anthony Powell & Joanna Johnston
Harrison Ford (Indiana Jones), Sean Connery (Dr. Henry Jones), Denholm Elliott (Marcus Brody), Allison Doody (Dr. Elsa Schneider), John Rhys-Davies (Sallah), Julian Glover (Walter Donovan), River Phoenix (Young Indy)
Littered with mistakes, geographical errors, anachronisms and goofs, but still enormous fun. This third adventure of the globe-trotting archaeologist, this time pairing the title character with his dad as they elude the Nazis in search of another ancient treasure.
Indiana Jones rescues his father (Sean Connery) from the clutches of the Nazi bad guys and the two go on an adventure to locate the whereabouts of Holy Grail before the Third Reich get their mitts on it.
Moving away from the occult fantasy of The Temple Of Doom in favour of religious artefacts makes for more family-orientated viewing much more in the spirit of Raiders Of The Lost Ark, even bringing back a few characters from the original film (Sallah, Marcus Brody).
Far-fetched but highly entertaining, this was the perfect conclusion to a trilogy of adventures. 
The saga really should have ended here.
7/10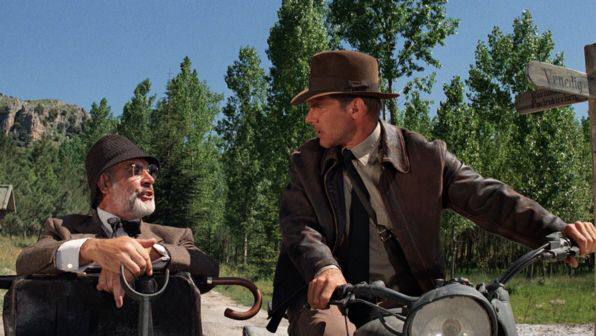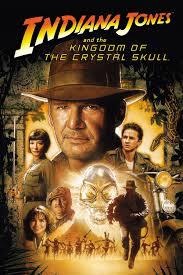 INDIANA JONES & THE KINGDOM OF THE CRYSTAL SKULL (12)
Paramount/Lucasfilm (Frank Marshall)
W: David Koepp; George Lucas & Jeff Nathanson [based on characters created by George Lucas & Philip Kaufman]
Harrison Ford (Indiana Jones), Cate Blanchett (Irina Spalko), Karen Allen (Marion Williams), Ray Winstone (George McHale), John Hurt (Harold Oxley), Jim Broadbent (Charles Stanforth), Shia LaBeouf (Mutt Williams)
A sequel 20 years too late and feeling uncomfortably like an attempt to usurp the ageing Ford with Steven Spielberg's love-child Shia LaBeouf as the fedora-wearing archaeologist explorer.
After escaping from an atomic blast outside Area 51, Indiana Jones and his young companion travel to Peru on a hunt for an Incan crystal skull, pursued all the time by Russkies. 
There's a handful of entertaining moments as it attempts to recreate the excitement from the 1980's trilogy of films, but the final result is incredibly disappointing, proving that, not only is Harrison Ford too old for these shenanigans, but so is George Lucas, who not only wrote the story to this mess, but had passionate plans for it to be titled "Indiana Jones & The Saucer Men".
Steven Spielberg also proves that his filmmaking product has matured since 1989.
There's a fan theory that the majority of the film is a nuclear-dream which all takes place in Indiana Jones' head as he's dying of radiation poisoning while trapped in a fridge, which is far more feasible than all the alien bullshit.
4/10