In Which We Serve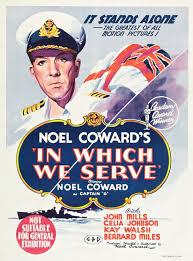 IN WHICH WE SERVE (U)
D: Noel Coward & David Lean
British Lion/Two Cities (Noel Coward)
W: Noel Coward
Ed: Thelma Myers & David Lean
Noel Coward (Capt. Kinross), John Mills (Shorty Blake), Bernard Miles (Walter Hardy), Celia Johnson (Alix Kinross), Kay Walsh (Freda Lewis)
The story of a WWII destroyer told in a series of flashback vignettes from the point of view of a group of survivors lost at sea after the boat was sunk by an enemy torpedo.
Based partly on the experiences of Louis Mountbatten, this archetypal British flagwaver proved to be a hugely popular propaganda piece and though many elements are dated now, it found the perfect audience when it was released during wartime.
Considered to be the film which launched David Lean's career, it's more a labour of love for Noel Coward, who starred, produced, wrote, composed and co-directed.
7/10