In the Valley of Elah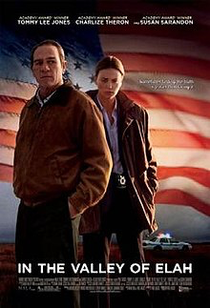 IN THE VALLEY OF ELAH (15)
D: Paul Haggis
Warner Independent/Summit/NALA (Patrick Wachsberger, Steven Samuels, Darlene Caamaño Loquet, Laurence Becsey & Paul Haggis)
US 2007
121 mins
Crime/Mystery/Drama
W: Paul Haggis & Mark Boal [based on the article "Death & Dishonor" by Mark Boal]
DP: Roger Deakins
Ed: Jo Francis
Mus: Mark Islam
Tommy Lee Jones (Hank Deerfield), Charlize Theron (Det. Emily Sanders), Susan Sarandon (Joan Deerfield), Jonathan Tucker (Mike Deerfield), James Franco (Sgt. First Class Dan Carnelli), Josh Brolin (Sheriff Buchwald), Jason Patric (First Lt. Kirklander), Frances Fisher (Eve)
The title of this crime mystery takes its name from the location where David slew Goliath in common folklore, referenced to in the movie during one of its particularly memorable scenes.
Based on a true story, Tommy Lee Jones stars as Hank Deerfield, a retired military investigator who receives the news that his son has been reported AWOL. He travels to the barracks in New Mexico and soon after his son's charred and dismembered body is discovered in the deserted outskirts of town. Hank pushes himself into the investigation, overseen by rookie detective Emily Sanders and both become involved in a judicial struggle between the local police and the military.
Paul Haggis' follow up to Crash features some powerful performances, especially from Jones in an Oscar-nominated role, as well as containing a strong anti-war message.
7/10