In the Heat of the Night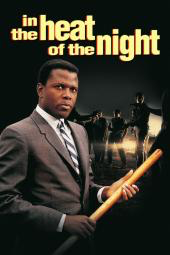 IN THE HEAT OF THE NIGHT (15)
D: Norman Jewison
United Artists (Walter Mirisch)
W: Stirling Silliphant [based on the novel by John Ball]
Ed: Hal Ashby
Sidney Poitier (Virgil Tibbs), Rod Steiger (Bill Gillespie), Warren Oates (Sam Wood), Quentin Dean (Delores Purdy), James Patterson (Purdy), William Schallert (Webb Schubert), Jack Teter (Philip Colbert), Lee Grant (Mrs. Leslie Colbert)
A true classic of cinema, winning the Best Picture Oscar in a very competitive year (beating The Graduate, amongst others).
Sidney Poitier plays homicide detective Virgil Tibbs, who finds himself investigating a murder in a small Mississippi town populated with racists, including bigoted Chief of Police Bill Gillespie (an excellent Oscar winning performance from Rod Steiger).
An important film for its era with a message which is just as relevant in modern times.
10/10