In the Bedroom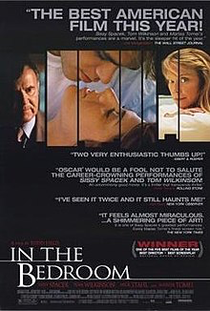 IN THE BEDROOM (15)
Miramax/Greene Street/Good Machine (Graham Leader, Ross Katz & Todd Field)
W: Rob Festinger & Todd Field [based on the story "Killings" by Andre Dubus]
Sissy Spacek (Ruth Fowler), Tom Wilkinson (Matt Fowler), Nick Stahl (Frank Fowler), Marisa Tomei (Natalie Strout), William Mapother (Richard Strout)
A powerful and emotional drama about a middle class married couple in a small New England community trying to cope with grief following the murder of their only son.
Tom Wilkinson, Sissy Spacek & Marisa Tomei are nothing short of brilliant and the final 20-30 minutes of the film are intensely gripping, transferring seamlessly from drama to thriller. 
There's a few moments in the middle of the second act which drag a tad, but overall this a thoroughly recommended piece of independent film.
8/10