If...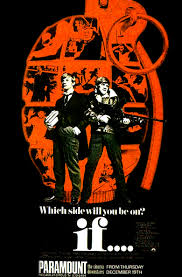 IF... (15)
D: Lindsay Anderson
Memorial (Michael Medwin & Lindsay Anderson)
Michael McDowell (Mick Travis), David Wood (Johnny), Richard Warwick (Wallace), Christine Noonan (The Girl), Robert Swann (Rowntree)
If... is an allegorical story of political uprising, peppered with references to figures such as Che Guevara, posters of whom are scattered around the set dressing.
Set at a strict boys boarding school where intellectual achievement is despised and status is dependent wholly on privilege, one of the rebellious students, Mick Travers, declares guerrilla war on the hierarchy, culminating in a finale which would have deemed incredibly violent when the film premiered in 1968 (it actually received an X rating at the time).
Director Lindsay Anderson takes a very formal approach to the majority of scenes set in the staid academy, but intersects it with dreamy sequences shot in stark black & white. Malcolm McDowell gives a solid performance in one of his early roles, and it's easy to see from this film why he was a perfect choice for A Clockwork Orange (qv).
The title is a reference to a Rudyard Kipling poem.
7/10