I Know What You Did Last Summer (film series)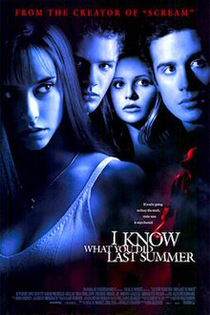 I KNOW WHAT YOU DID LAST SUMMER (18)
Columbia/Mandalay (Neal H. Moritz, Erik Feig & Stokely Chaffin)
W: Kevin Williamson [based on the novel by Lois Duncan]
Jennifer Love Hewitt (Julie James), Sarah Michelle Gellar (Helen Shivers), Ryan Philippe (Barry Cox), Freddie Prinze, Jr. (Ray Bronson), Anne Heche (Missy Egan)
The late 1990's saw the rise of a new screenwriter, Kevin Williamson, who created the TV show 'Dawson's Creek', as well as penning 1996 horror movie Scream (qv), a part-satirical look at horror films and brought some much needed freshness to the genre.
His Scream follow-up, I Know What You Did Last Summer, is merely a return to the usual cliches, mixing the slasher sub-genre with a standard revenge flick, starring a group of dumbass teens who hit someone with their car, cover it up, and then find themselves picked off one by one a year later. It's rather enioyable for the duration, but not particularly memorable, with acting, characters and dialogue no better than the average you'd expect.
4/10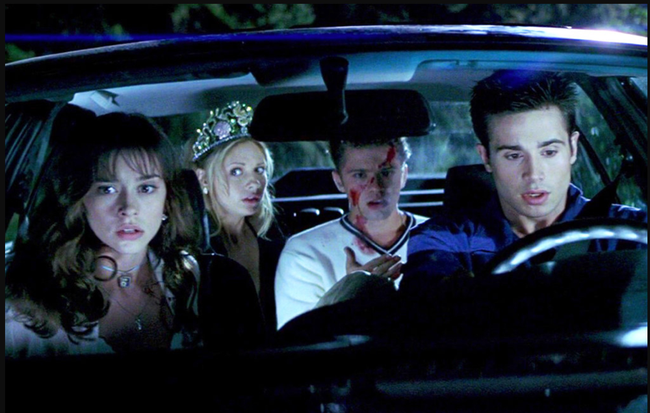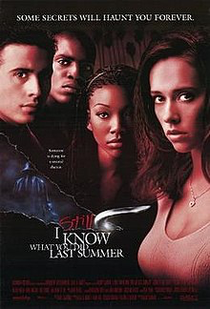 I STILL KNOW WHAT YOU DID LAST SUMMER (18)
Columbia/Mandalay (Neal H. Moritz, Erik Feig, Stokely Chaffin & William S. Beasley)
W: Trey Callaway [based on characters created by Lois Duncan]
Jennifer Love Hewitt (Julie James), Freddie Prinze, Jr. (Ray Bronson), Brandy Norwood (Karla Wilson), Mekhi Phifer (Tyrell Wilson), Muse Watson (Ben Willis)
Poor sequel to I Know What You Did Last Summer with the same clichés and virtually the same dumbass characters, the only difference is that it's set at a holiday camp in the Caribbean because, well, why the hell not? The cast and crew wanted a free holiday, it would seem.
Jennifer Love Hewitt and her chums win the holiday when she phones a radio call-in show with the (incorrect) answer. They then swan about in paradise, singing karaoke and getting drunk, before their vacation turns into a nightmare when a serial killer pursues them.
Not only is this film stupid, it's insultingly stupid. Only recommended to those who don't know what the capital of Brazil is.
2/10