I Don't Want To Be Born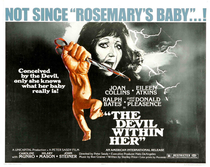 I DON'T WANT TO BE BORN (aka THE DEVIL WITHIN HER) (18)
Rank/Unicapital (Norma Corney)
Joan Collins (Lucy Carlesi), Ralph Bates (Gino Carlesi), Donald Pleasance (Dr. Finch), Eileen Atkins (Sister Albana)
Cheap English horror with very little to recommend about it.
The title makes little sense, since the film begins with a "demon child" being born, then the film becomes a monotonous series of relentless dream sequences with Joan Collins and a murderous dwarf who may or may not be possessing the newborn child (the bizarre direction makes this quite unclear).
Complete and utter garbage, serving as a ripoff to Rosemary's Baby, Don't Look Now and The Exorcist, but really poorly done. 
2/10