An Inspector Calls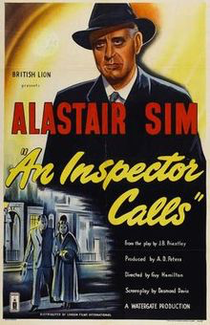 AN INSPECTOR CALLS (PG)
D: Guy Hamilton
British Lion/Watergate (A.D. Peters)
UK 1954
79 mins
Drama
W: Desmond Davis [based on the play by J.B. Priestley]
DP: Ted Schaife
Ed: Alan Osbiston
Mus: Francis Chagrin
Alastair Sim (Inspector Poole), Jane Wenham (Eva Smith), Arthur Young (Arthur Berling), Olga Lindo (Sybil Berling), Brian Worth (Gerald Croft)
J.B. Priestley's most celebrated stage play is conservatively brought to the screen, practically carried by a masterful performance by Alastair Sim as the inspector of the title.
Set in 1912, the plot follows a mysterious inspector who pays a visit to an upper-class Yorkshire family with news of the death of a young girl, and sets out to prove that each of them have some responsibility for her death.
Though the execution is somewhat old-fashioned, the message is still strong and cuts a knife through the system which divides the classes.
On balance, the stage play is much better, but this is as good a film adaptation as could be imagined.
7/10