The Hustler / The Color Of Money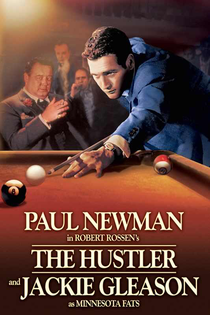 THE HUSTLER (15)
D: Robert Rossen
20th Century Fox (Robert Rossen)
W: Sidney Carroll & Robert Rossen [based on the novel by Walter Tevis]
DP: Eugene Schuftan
PD: Harry Horner
Paul Newman ('Fast' Eddie Felson), Jackie Gleason (Minnesota Fats), Piper Laurie (Sarah Packard), George C. Scott (Bert Gordon), Myron McCormick (Charlie Burns), Murray Hamilton (Findlay)
Paul Newman is the king of cool in this 1960's classic, as much a drama about alcoholism and addiction as it is a sports movie.
Newman plays "Fast" Eddie Felson, a pool room con artist who goes from smoky pool hall to smoky pool hall, winning money off his opponents before they even realise they've been hustled, but Felson falls into problems himself when he falls in love with an alcoholic. 
Paul Newman has rarely been better and though he didn't win an Oscar for this film, playing the same character eventually won him Best Actor for the sequel, The Color Of Money (qv), released 25 years later.
9/10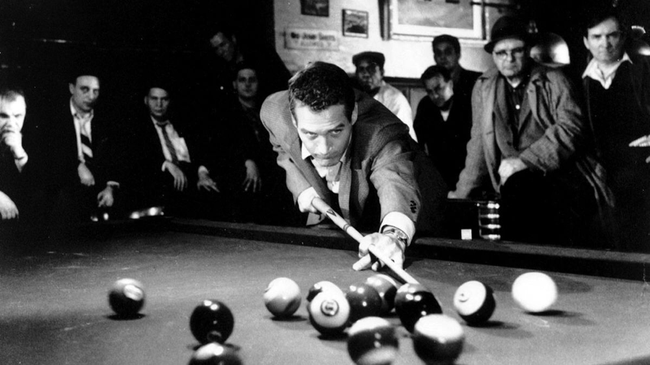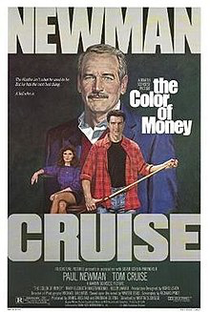 THE COLOR OF MONEY (15)
Touchstone (Irving Axelrod & Barbara de Fina)
W: Richard Price [based on the novel by Walter Tevis]
DP: Michael Ballhaus
Ed: Thelma Schoonmaker
Paul Newman ('Fast' Eddie Felson), Tom Cruise (Vincent Lauria), Mary Elizabeth Mastrantonio (Carmen), Helen Shaver (Janelle), John Turturro (Julian), Bill Cobbs (Orvis), Keith McCready (Grady Seasons)
Twenty-five years after the events in 'The Hustler', Fast Eddie Felson returns to the pool rooms where he used to ply his trade, this time with young protégé Vincent (Cruise), a cocky but talented player who Eddie hopes to lead to victory at an upcoming tournament in Atlantic City.
The two don't see eye-to-eye though, parting ways before Felson comes out of retirement to participate in the tournament himself.
A stylish sequel which references the original film without detracting from it or being a carbon copy. It's also very possible to enjoy this even if you've not seen the original film. 
All the performances are excellent, as is the soundtrack of contemporary songs and classic blues hits.
Not many sequels come this close to matching the quality of the original. This is amongst them.
8/10