The Hunt (Jagten)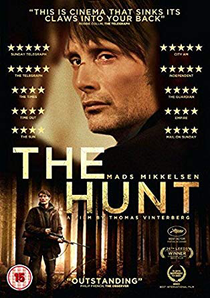 THE HUNT (JAGTEN) (15)
D: Thomas Vinterberg
Nordisk/Zentropa (Sisse Graum Jørgensen & Morten Kaufmann)
Denmark 2012 (released 2013)
W: Thomas Vinterberg & Tobias Lindholm
DP: Charlotte Bruus Christensen
Ed: Anne Østerud & Janus Billeskov Jansen
Mads Mikkelsen (Lucas), Thomas Bo Larsen (Theo), Annika Wedderkopp (Klara), Lasse Fogelstrøm (Marcus), Susse Wold (Grethe), Anne Louise Hassing (Agnes), Lars Ranthe (Bruun), Alexandra Rapaport (Nadja)
The Hunt is a very uncomfortable watch, but it still remains dramatically gripping throughout.
In a small Danish community, Lucas, a nursery teacher fighting for custody of his son, has his life thrown into turmoil when a young girl accuses him of exposing himself to her. Despite being completely innocent, he finds himself shunned by the townsfolk, having a severe impact on his relationship with his girlfriend, son, ex-wife and best friends.
Despite the subject matter, the film is handled tastefully without resorting to controversy or exploitation, with excellent performances from the entire cast.
Mars Mikkelsen won the Best Actor award at the 2012 Cannes Film Festival, but the film surprisingly didn't receive a wide release until nearly a year later.
A highly recommended piece of world cinema.
8/10