The Human Centipede (trilogy)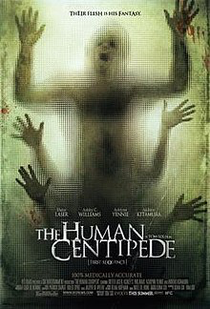 THE HUMAN CENTIPEDE (18)
Bounty Films (Tom Six & Ilona Six)
Mus: Patrick Savage & Holeg Spies
Dieter Laser (Dr. Josef Heiter), Ashley C. Williams (Lindsay), Ashlynn Yennie (Jenny), Akihiro Kitamura (Katsuro)
When the doors of gore-porn horror were opened with the Saw and Hostel movies, it was only a matter of time before something truly sick hit the screens, and here it is...
Two thick-as-shit female American tourists get lost in the woods while looking for a nightclub (go figure) and instead of attempting to change the blown out tyre on their car, they delve deeper into the woods and end up knocking on the door of a German doctor who drugs them. They later wake up as the crazy surgeon unveils his plans to make a human centipede out of them and another kidnapped Japanese tourist because, well, why the fuck not?
The film just gets more and more stupid as it crawls (literally) to a wholly unsatisfying ending. It's not scary, and lacks the necessary atmosphere to achieve anything truly frightening, it's simply unpleasant. Weirdos might like it though.
3/10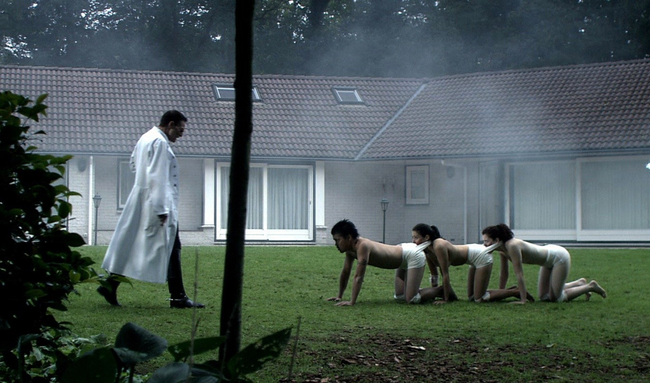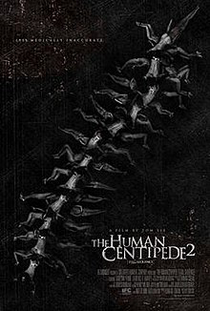 THE HUMAN CENTIPEDE 2 (18)
Bounty Films (Tom Six & Ilona Six)
The Netherlands/UK/US 2011
Laurence R. Harvey (Martin Lomax), Ashlynn Yennie (herself), Maddi Black (Candy), Kandace Caine (Karrie)
A mentally-depraved car park security guard is obsessed with the first Human Centipede film and is inspired to carry out the depicted experiment on a group of people who he abducts, including an actress from the first film who he leads to his torture dungeon under the pretences of an audition.
For all intents and purposes, this film should not exist. There's nothing on display here except disturbing violence and disgusting gore for the sake of disturbing violence and disgusting gore.
The producers couldn't have picked a creepier looking fellow for the lead, but the unlikeable character is so depraved that it's impossible to consider this "acting", while everyone else is just a prop for the sick ass-to-mouth plot device.
There are horror films, and there are films which are just simply horrible. It's easy to judge which this one is.
1/10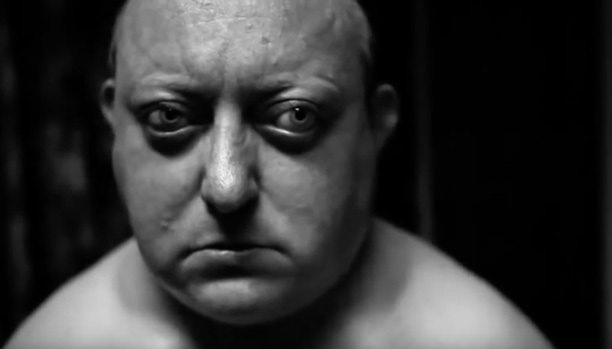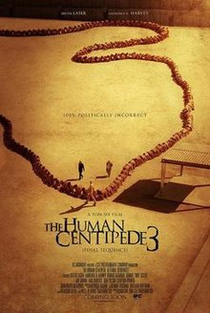 THE HUMAN CENTIPEDE 3 (18)
IFC Midnight (Tom Six & Ilona Six)
Dieter Laser (Bill Boss), Laurence R. Harvey (Dwight Butler), Eric Roberts (Governer Hughes), Bree Olson (Daisy), Tom Six (himself)
Inspired by the first two films of this self-referential horror series, a sadistic warden and his prison staff undertake an experiment to make a human centipede from the prisoners under their care.
If, like most of the world, you thought the first two films were sick, exploitative trash, this is much of the same with the volume cranked even louder and the visuals even more disgusting. If you enjoyed the first two films, you probably need psychiatric help.
1/10