The Howling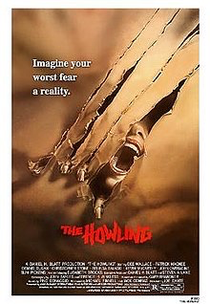 THE HOWLING (18)
Avco Embassy (Michael Finnell & Jack Conrad)
W: John Sayles & Terence H. Winkless [based on the novel by Gary Brandner]
Ed: Mark Goldblatt & Joe Dante
Dee Wallace Stone (Karen White), Patrick Macnee (Dr. George Waggner), Dennis Dugan (Chris), Christopher Stone (Bill Neill), Belinda Balanski (Terry Fisher), Kevin McCarthy (Fred Francis)
The most unfortunate thing about Joe Dante's werewolf movie is that it was released in the same year as An American Werewolf In London (qv), arguably the greatest werewolf film ever produced.
The Howling itself isn't a bad film at all, albeit rather dated, the pacing is a bit slow in parts, but it has plenty of scary scenes, decent makeup effects for it's time and reasonably good performances.
A couple of sequels followed, but were mostly ignored due to the fact that they aren't very good.
6/10