Hustlers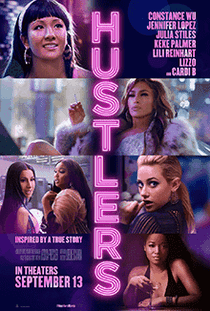 HUSTLERS (15)
D: Lorene Scafaria
STX/Annapurna/Nuyorican/Gloria Sanchez (Jessica Elbaum, Will Ferrell, Adam McKay, Elaine Goldsmith-Thomas & Jennifer Lopez)
USA 🇺🇸 2019
110 mins
Crime/Drama
W: Lorene Scafaria [based on the article "The Hustlers At Scores" by Jessica Pressler]
DP: Todd Banhazl
Ed: Kayla Emter
Constance Wu (Dorothy / Destiny), Jennifer Lopez (Ramona Vega), Julia Stiles (Elizabeth), Keke Palmer (Mercedes), Lili Reinhart (Annabelle), Mercedes Ruehl (Mama)
Based on true events, Hustlers follows a group of strippers at a glitzy New York club whose high-earning days cease following the 2008 stock market crash.
With each of them needing various reasons to earn as much as they once did, they formulate a plan to target the sleazy Wall Street bankers and executives they deem responsible for the economic downturn and extort money from them using their sexuality to entice them back into the clubs, where they are drugged and ring up the charges on their corporate credit cards.
Of course, greed corrupts and this becomes the ladies undoing as they target more innocent types, leading them to charges of larceny.
The film is far less unpleasant than it could have been, focusing on the relationship between the ladies and their families, but it also portrays the ladies as quite hypocritical in the way they bask in material wealth and designer-sponsored luxuriance, making them ultimately no better than the sleazebags they aim to rip off. 
Despite this, the performances from the ensemble are fantastic, especially from Jennifer Lopez who smoulders through every scene and the screenplay is well written with some good dialogue.
6/10