Hush... Hush, Sweet Charlotte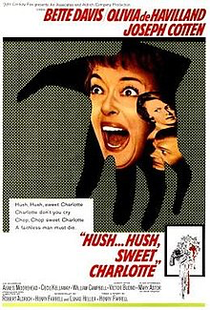 HUSH... HUSH, SWEET CHARLOTTE (15)
D: Robert Aldrich
20th Century Fox (Robert Aldrich)
US 1964
133 mins
Thriller/Horror/Drama
W: Henry Farrell & Lukas Heller
DP: Joseph Biroc
Ed: Michael Luciano
Mus: Frank de Vol
PD: William Glasgow
Bette Davis (Charlotte Hollis), Olivia de Havilland (Miriam Deering), Joseph Cotten (Dr. Drew Bayliss), Agnes Moorehead (Velma Cruther), Cecil Kellaway (Harry Willis), Mary Astor (Jewel Mayhew), Victor Buono (Big Sam Hollis)
Following on from Whatever Happened To Baby Jane? (qv) two years earlier and owing a debt of gratitude to 1955's Les Diabolique (qv), Robert Aldrich teams up with Bette Davis again for this psychological thriller involving a reclusive woman, Olivia de Havilland playing the second part to the double act in lieu of Joan Crawford.
Southern belle Charlotte Hollis hasn't left her house for 17 years, still haunted by the murder of her fiancé in all that time and she becomes more mentally unhinged when her cousin Miriam visits to assist Charlotte during an impending threat to tear down the family home in order to build parts of a freeway.
Although the acting of the two principals is excellent, as is the supporting performance of Agnes Moorehead, the film suffers from being far too similar to other, better films, as well as being at least 30 minutes too long. There are many good elements which make this watchable and thrilling, but the acting definitely deserves the plaudits.
7/10