House on Haunted Hill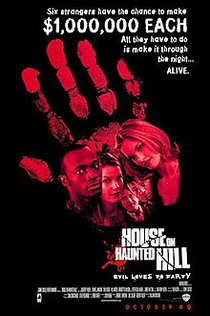 HOUSE ON HAUNTED HILL (18)
Warner Bros./Dark Castle (Robert Zemeckis, Joel Silver & Gilbert Adler)
W: Dick Beebe [based on a screenplay by Robb White]
DP: Rick Bota
Geoffrey Rush (Steven Price), Famke Janssen (Evelyn Stockard-Price), Taye Diggs (Eddie Baker), Peter Gallagher (Donald Blackburn), Chris Kattan (Watson Pritchett), Ali Larter (Sara Wolfe)
*Review may contain spoilers*
The late 1990's and early 2000's saw Robert Zemeckis turning producer to a handful of 1950's horror remakes, especially the works of William Castle, who utilised cheapjack gimmicks such as "ghost viewing 3D glasses" and dummy skeletons swooping from the ceilings of cinema auditoriums to keep the punters rolling in.
This remake uses no such gimmicks and is a rather standard haunted house movie with a group of strangers invited by eccentric millionaire Geoffrey Rush (who does a rather excellent Vincent Price impression).
The film is quite pointless, silly, and more unintentionally hilarious than it is creepy, but on the same token, it's very easily enjoyable, although the ending is nothing short of embarrassing, especially with Taye Diggs' final line of dialogue ("No... I was adopted!"). Cringeworthy.
4/10