House of Flying Daggers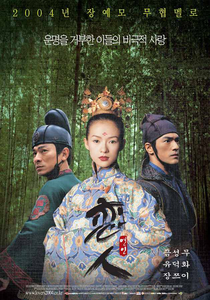 HOUSE OF FLYING DAGGERS (15)
Sony Pictures Classics/Edko (Bill Kong & Zhang Yimou)
W: Li Feng, Zhang Yimou & Wang Bin
DP: Xiaoding Zhao
PD: Tingxiao Huo
Cos: Emi Wada
Takeshi Kaneshiro (Captain Jin), Zhang Ziyi (Mei), Andy Lau (Captain Lao), Song Dandan (Yee)
Visual splendor, meticulous period design and balletic martial arts choreography are married together in this story of power struggles amidst the dynasties of 9th century China.
Comparisons will doubtlessly be made with Ang Lee's Crouching Tiger, Hidden Dragon although both are completely different films, the only similarity being a slightly contrived romance subplot in the proceedings and both films being in an "arthouse martial art film" genre.
Worth watching for the beautiful cinematography alone.
7/10