Hotel Rwanda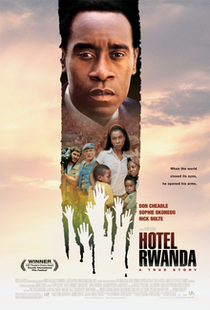 HOTEL RWANDA (15)
MGM (Terry George & A. Kitman Ho)
UK/US/South Africa/Italy 2004
W: Terry George & Keir Pearson
Mus: Andrea Guerra & Rupert Gregson-Williams
Don Cheadle (Paul Rusesabagina), Sophie Okonedo (Tatiana Rusesabagina), Nick Nolte (Colonel Oliver), Joaquin Phoenix (Jack Dalglish), Cara Seymour (Pat Archer)
During a period of civil unrest in Rwanda, a Kigali hotel owner opens the doors as a refuge to the imperilled people, keeping them in relative safety by bribing the soldiers who are carrying out the mass genocide.
This heartbreaking drama works best as a focus on one man's bravery in the same way that Schindler's List (qv) focuses on the holocaust in WWII Poland. There's not a particular amount of focus in the political aspects or origin of the crisis, so it would help to do a little investigation into the events which unfold.
Still, it's a powerful portrait of a man who does right to protect his own family, as well as thousands of innocent people targeted simply for ethnic cleansing. 
Don Cheadle was deservedly nominated for a Best Actor Oscar for his performance, handling the emotions that the role demanded superbly.
7/10