Hope & Glory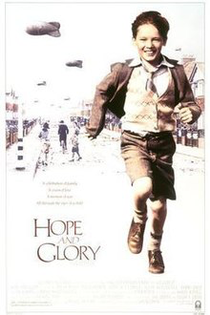 HOPE & GLORY (15)
D: John Boorman
Columbia/Goldcrest (John Boorman)
W: John Boorman
DP: Philippe Rouselott
PD: Anthony Pratt
Sebastian Rice-Edwards (Bill Rohan), Sarah Miles (Grace Rohan), Geraldine Muir (Sue Rohan), David Hayman (Clive Rohan), Sammi Davis (Dawn Rohan), Derrick O'Connor (Mac), Susan Wooldridge (Molly), Ian Bannen (George)
John Boorman's autobiographical war film makes for one of his career's finest films.
From a child's point of view, wartime Britain isn't such a bad thing, especially for nine-year-old Bill. His father may be on the front line, but at home the school's are being closed and the neighbourhood has become a playground of rubble where he and his scoundrel friends collect shrapnel. His older sister doesn't seem to mind the war either, using it as excuse to meet American soldiers.
The film is finely balanced between comedy and drama, presenting the period well with an air of nostalgia and haughty patriotism.
8/10