Home Alone (film series)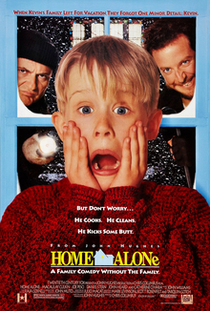 HOME ALONE (PG)
20th Century Fox (John Hughes)
Mus: John Williams
Macauley Culkin (Kevin McCallister), Joe Pesci (Harry Lime), Daniel Stern (Marv Merchants), John Heard (Peter McCallister), Catherine O'Hara (Kate McCallister), Roberts Blossom (Old Man Marley)
The most successful family comedy of 1990 may get less and less funny with each repeat viewing, but on it's original release it was a real hoot.
When his family oversleep and have to hastily get to the airport for a Christmas vacation, they accidentally leave 10-year-old Kevin alone in the upstairs bedroomc, not realising their mistake until their plane lands in Paris. 
Kevin himself has the time of his life with no adults to spoil his fun. He raids his brother's bedroom, eats all the junk food he wants, watches inappropriate movies and gets up to all kinds of mischief, but when a pair of incompetent robbers try to break in, it's up to Kevin to foil their plans himself.
Writer John Hughes and director Chris Columbus do a great job rejuvenating slapstick comedy for a new era, and while the film does have it's flaws, it has to be regarded as a landmark film of the 1990's as well as a perennial Christmas classic (despite not actually having anything to do with the festive season).
8/10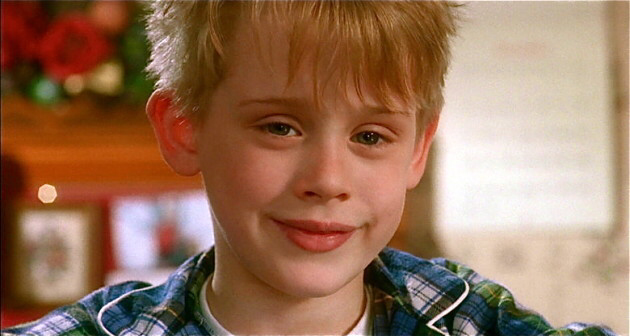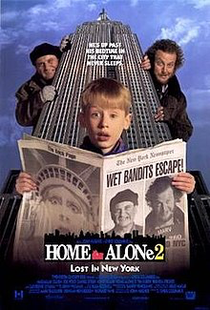 HOME ALONE 2: LOST IN NEW YORK (PG)
20th Century Fox (John Hughes)
Macauley Culkin (Kevin McCallister), Joe Pesci (Harry Lime), Daniel Stern (Marv Merchants), John Heard (Peter McCallister), Catherine O'Hara (Kate McCallister), Brenda Fricker (The Pigeon Lady), Tim Curry (Mr. Hector)
Practically a remake of the original movie, except Macauley Culkin's precocious performance isn't quite as cute this time around.
Instead of being left home alone, this time young Kevin is separated from his family at the airport and gets on the wrong flight, ending up in New York City. Someone call social services!
With the aid of his father's credit card, he checks into a fancy hotel and runs up huge amounts on room service, before the pretentious manager gets suspicious and throws him out on the street where, lo and behold, Kevin bumps into the incompetent criminals from the first film.
Everything is pretty much a carbon copy from the first film except it's bigger, louder and more, and though a few of the slapstick moments evoke a chuckle of two, it's easy to feel cheated that you've paid to watch the same film twice.
5/10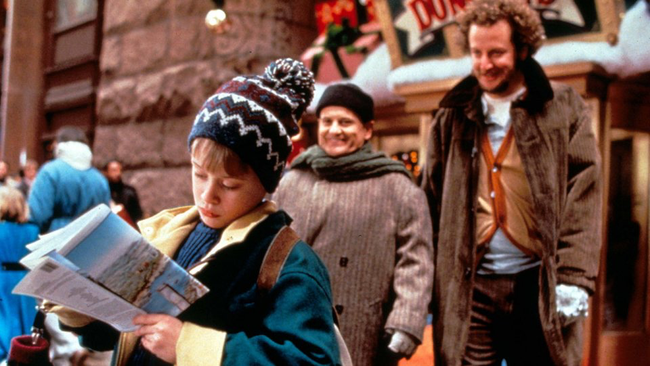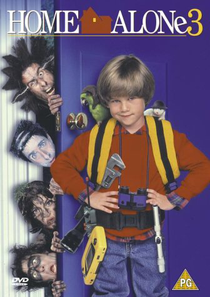 HOME ALONE 3 (PG)
20th Century Fox (John Hughes & Hilton Green)
Ed: Bruce Green, Malcolm Campbell & David Rennie
Alex D. Linz (Alex Pruitt), Olek Krupa (Petr Beaupre), Rya Kilhstedt (Alice Ribbons), Lenny Von Dohlen (Burton Jernighan), David Thornton (Earl Unger)
The characters from the first two films are cast aside and the plot barely follows the same formula, therefore it can be easily argued that the film shouldn't contain the words 'Home' and 'Alone' in the title at all, despite being penned once more by John Hughes.
All that has remained is a kid outwitting dumbass criminals, this time they're trying to break into his house to steal some microchips while his mum's at work  and it's up to him to devise a plan to outsmart them.
It's very much one film too far and it's no surprise that it didn't even do a fraction of the business which the first two movies did at the box office.
4/10