Hitman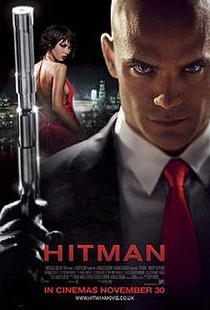 HITMAN (18)
20th Century Fox (Charles Gordon & Adrian Askariah)
W: Skip Woods [based on the video game created by IO Interactive]
Ed: Carlo Rizzo & Antoine Vareille
Timothy Olyphant (Agent 47), Dougray Scott (Mike Whittier), Olga Kurlyenko (Nika Borinina), Robert Knepper (Yuri Marklov)
Based on a video game, and it shows.
Timothy Olyphant looks the part as the titular hitman, a genetically manufactured, emotionless assassin who becomes embroiled in a conspiracy involving a Russian politician.
Unfortunately, the script gives the actor nothing really to do except go from scene-to-scene with the same expressionless look on his face, before culminating in a multiple-gun stand off, which is probably the only part of the film worth watching.
The game is much more fun.
4/10