Hitchcock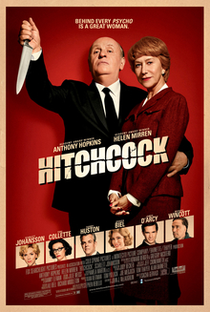 HITCHCOCK (15)
Fox Searchlight/Montecito/Cold Spring (Ivan Reitman, Tom Pollock, Joe Medjuck, Tom Thayer & Alan Barnette)
W: John J. McLaughlin [based on the book "Alfred Hitchcock & The Making Of Psycho" by Stephen Rebello]
Anthony Hopkins (Alfred Hitchcock), Helen Mirren (Alma Reville), Scarlett Johansson (Janet Leigh), Toni Collette (Peggy Robertson), Danny Huston (Whitfield Cook), Jessica Biel (Vera Miles), James D'Arcy (Anthony Perkins), Michael Wincott (Ed Gein)
As a huge fan of Alfred Hitchcock movies, the overriding opinion of this biopic was that it most definitely missed a trick. 
Instead of focusing on the entire career of the noted director, it focuses solely on the shoot of Psycho, funded entirely by Hitchcock himself due to the studio's concerns.  Hitchcock's fantasy obsessions with his leading ladies is touched upon, but not in any great depths and if you're not too savvy with the directors reputation then it doesn't really provide much of a study into his character.
Nevertheless, Anthony Hopkins & Helen Mirren deliver great performances and the makeup really transforms Hopkins into the Master of Suspense, but overall, the film was massively disappointing.
A documentary on the making of any of his more famous films would provide a much more informative insight.
6/10