High Noon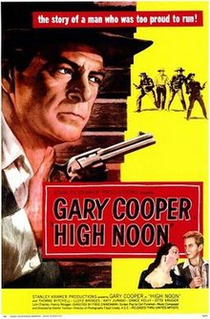 HIGH NOON (PG)
D: Fred Zinnemann 
United Artists (Stanley Kramer)
W: Carl Foreman [based on the story "The Tin Star" by John W. Cunningham]
DP: Floyd Crosby
Ed: Elmo Williams & Harry Gerstad
Mus: Dimitri Tiomkin
Gary Cooper (Will Kane), Grace Kelly (Amy Kane), Thomas Mitchell (Jonas Henderson), Lloyd Bridges (Harvey Pell), Katy Jurado (Helen Ramirez)
High Noon is a seminal western which many others have aspired to be, but don't come close to touching distance.
Gary Cooper won his second Oscar for his portrayal of town marshal Will Kane, who, on his wedding day, receives warning that a rival is on his way with revenge his mind. Too proud to leave town and against the wishes of his new wife, Kane is determined to stay and fight, but the rest of the townsfolk are reluctant to help him.
Billed as the first "adult western", the story has some complex allegorical parables with American politics of the 1950's, especially with the dawn of the Cold War and McCarthyism.
Every moment of the film is brilliantly realised, cranking up the tension as the film progresses. It's all down to top notch direction from Fred Zinnemann, believable acting performances, taut editing, engaging cinematography and a classic music theme. An absolute must-see, even for those who aren't particularly fond of Westerns.
10/10