High Anxiety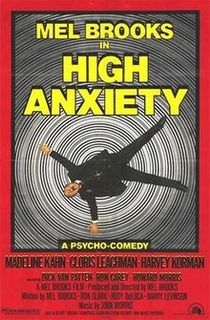 HIGH ANXIETY (15)
20th Century Fox/Crossbow (Mel Brooks)
W: Mel Brooks, Ron Clark, Rudy DeLuca & Barry Levinson
Mel Brooks (Richard Thorndyke), Madeline Kahn (Victoria Brisbane), Cloris Leachman (Nurse Diesel), Harvey Korman (Dr. Charles Montague), Ron Carey (Brophy), Howard Morris (Prof. Lilloman), Dick Van Patten (Dr. Wentworth)
Mel Brooks' parody of Alfred Hitchcock suspense films isn't quite as good as his best work, but it's far from his worst.
It probably helps if you've seen a great deal of the films it sends up (North By Northwest, Vertigo, etc.) or the majority of the jokes will go straight overhead.
Brooks does a good job in the lead, but his talents most certainly lie in scriptwriting rather than performing.
6/10