Hellboy (1 & 2)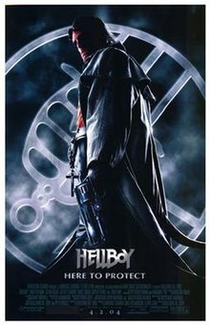 HELLBOY (12)
Columbia/Revolution/Dark Horse (Lawrence Gordon, Mike Richardson & Lloyd Levin)
W: Guillermo del Toro [based on characters created by Mike Mignola]
Ron Perlman (Hellboy), John Hurt (Trevor Bruttenholm), Selma Blair (Liz Sherman), Rupert Evans (John Thaddeus Myers), Karel Roden (Grigori Rasputin), Jeffrey Tambor (Tom Manning)
Guillermo del Toro is the perfect choice of director for this dark comic-book fantasy, bringing his own gothic imagination into the fold with the help of impressive and exuberant production design, costume design and makeup.
Hellboy is a demon, conjured from a Nazi experiment with black magic at the end of World War II, rescued and raised by the American government to fight the forces of evil.
Ron Perlman brings a good bit of personality and fun to the red-skinned brute with blunted horns and the special effects throughout are generally decent, particularly the excellent makeup effects.
A sequel followed in 2008.
6/10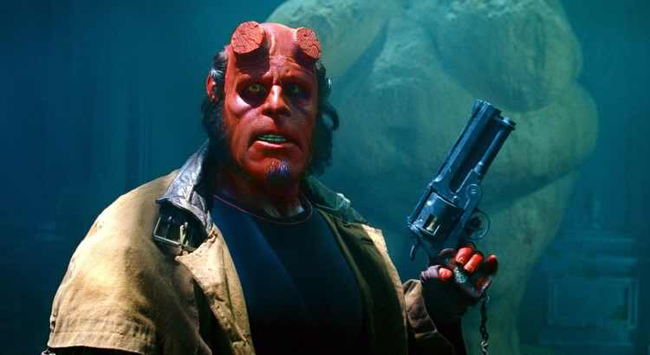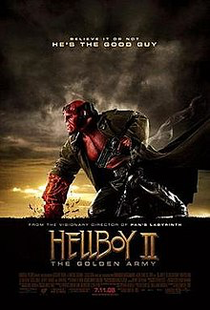 HELLBOY II: THE GOLDEN ARMY (12)
Universal/Relativity Media/Dark Horse (Lawrence Gordon, Mike Richardson & Lloyd Levin)
W: Guillermo del Toro & Mike Mignola [based on characters created by Mike Mignola]
Ron Perlman (Hellboy), Selma Blair (Liz Sherman), Doug Jones (Abe Saipen), Luke Goss (Prince Nuada Silverlance), John Hurt (Trevor Bruttenholm)
The cigar smoking, candy bar chomping, demonic superhero returns in this sequel, as he, his pyro-kinetic girlfriend and his aquatic mutant ally take on an underground race who plan on taking over the world with the aid of an almost indestructible army.
The story here is a little weaker than the original film, and there's a slight lack of comic relief, but this is made up for with an abundance of action scenes and excellent visual effects, particularly in the field of makeup, for which it received an Oscar nomination.
6/10