Hell or High Water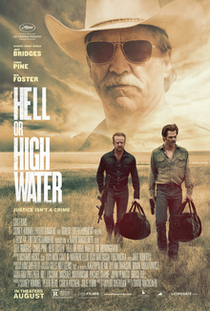 HELL OR HIGH WATER (15)
CBS/Lionsgate/OddLot/Film 44/LBI (Sidney Kimmell, Peter Berg, Carla Hacken, Julie Yorn, Gigi Pritzker & Rachel Shane)
W: Taylor Sheridan
Mus: Nick Cave & Warren Ellis
Chris Pine (Toby Howard), Ben Foster (Tanner Howard), Jeff Bridges (Marcus Hamilton), Gil Birmingham (Alberto Parker), Marin Ireland (Debbie Howard), Katy Mixon (Jenny Ann)
Hell Or High Water is a neo-western crime thriller much in the vein of No Country For Old Men and Fargo, with a twist on fraternal twist on Bonnie & Clyde folklore
Chris Pine and Ben Foster star as two Texas brothers who embark on a chain of bank robbery around the state, using the money to pay off the mortgage on their family ranch to the very same chain of banks they're stealing from. Investigating their trail is ageing, politically incorrect Texas Ranger Marcus Hamilton and his Mexican partner, who aim to get to the next targeted bank before the two brothers strike it.
The film does a great job exploring the relationship of the two brothers, who are polar opposites to one another. Toby (Chris Pine) is the calmer, more intelligent of the two while Tanner (Ben Foster) is a loose cannon who acts mostly on impulse.
Both actors do a fine job with their portrayals, but both are upstaged by wily veteran Jeff Bridges, who nails a role which would have perfectly seemed suited to The Duke himself, the late John Wayne.
One of the great surprises of 2016.
8/10