Harvey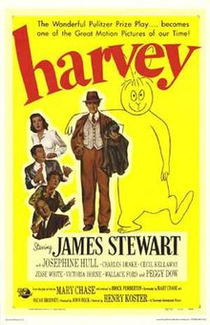 HARVEY (U)
W: Mary Chase & Oscar Brodney [based on the play by Mary Chase]
James Stewart (Elwood P. Dowd), Josephine Hull (Veta Louise Simmons), Peggy Dow (Miss Kelly), Charles Drake (Dr. Sanderson), Cecil Kellaway (Dr. Chumley)
James Stewart is perfectly charming as Elwood P. Dowd, an amiable gentleman with a six-foot tall rabbit as an imaginary friend and a sister who attempts to have him committed to a psychiatric ward, but ends up being committed herself.
The story is a lighthearted look at mental health and possible ties to alcoholism, with subtle comedy and excellent performances, particularly from James Stewart in one of his much beloved roles and Josephine Hull, who won a Best Supporting Actress Oscar for playing his social-climbing sister, even the performance of the invisible title character is memorable, though this is attributable to the efforts of the rest of the ensemble.
One minor gripe is that of the sound recording, which sounds a little too tinny throughout, but perhaps this was on purpose to give the film a more dreamlike quality. Everything else is fantastic.
8/10