Harry & The Hendersons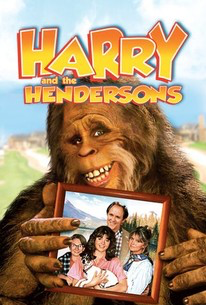 HARRY & THE HENDERSONS (aka BIGFOOT & THE HENDERSONS) (PG)
Universal/Amblin (Richard Vane & William Dear)
W: William Dear, William E. Martin & Ezra D. Rappaport
John Lithgow (George Henderson), Melinda Dillon (Nancy Henderson), David Suchet (Jacques LaFleur), Don Ameche (Dr. Wallace Wrightwood), Margaret Landrick (Sarah Henderson), Joshua Rudoy (Ernie Henderson), Kevin Peter Hall (Harry)
You'd be forgiven for thinking that director William Dear was actually a pseudonym for Steven Spielberg, whose Amblin company produced this family comedy, which is quite conveniently summed up as E.T. in the woods.
A family on a camping trip accidentally drive into the legendary Sasquatch, and believing the creature to be dead, take him to their Seattle home where he wreaks all kinds of havoc while unscrupulous authorities search his true wereabouts.
The humour is sitcom standard and it's all rather cloying, with occasional moments of comedy. Fantastic makeup from Rick Baker is the star of the show.
6/10