Happy Death Day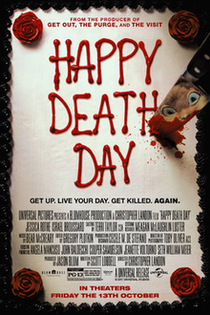 HAPPY DEATH DAY (15)
D: Christopher Landon
Universal/Blumhouse (Jason Blum)
US 2017
96 mins
Horror/Mystery/Thriller
W: Scott Lobdell
DP: Toby Oliver
Ed: Gregory Plotkin
Mus: Bear McCreary
Jessica Rothe (Tree Gelbman), Israel Broussard (Carter Davis), Ruby Modine (Lori Spengler), Rachel Matthews (Danielle Bouseman), Charles Aitken (Gregory Butler), Rob Mello (John Tombs)
The premise of Groundhog Day is reimagined for a teen slasher genre, starring Jessica Rothe as Tree, an ignorant and bitchy sorority girl who is murdered on her birthday and has a chance to relive the day over and over again until she discovers her own murderer.
The horror film is not without its faults, of which there are plenty, the biggest being that it's very difficult to care about such an unpleasant lead character, even when her character does arc, it appears disingenuously false.
Another problem is that is simply isn't scary, with only a handful of jump scares that you can predict a mile off. The true identity of the killer won't be much of a surprise either.
The premise could have worked with a little more work, but this is aimed solely at a teenage audience, who probably won't care too much for more than a dumb, colour-by-numbers horror flick.
4/10