Halloween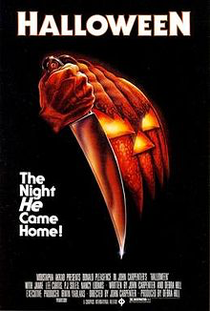 HALLOWEEN (18)
D: John Carpenter
W: John Carpenter & Debra Hill
Mus: John Carpenter
Donald Pleasance (Dr. Sam Loomis), Jamie Lee Curtis (Laurie Strode), Nick Castle (Michael Myers), Nancy Loomis (Annie Brackett), P.J. Soles (Lynda van der Klok), Charles Cyphers (Sheriff Leigh Brackett)
Neither the first "slasher" movie, nor the most original, but John Carpenter's iconic scary movie was the first to tap into a the mainstream market, creating a lasting legacy and countless copycats.
The plot is simple and single-minded; a psychopath escapes from an asylum and spends the evening of October 31st killing teenagers and babysitters.
Style is very much over substance, with John Carpenter's eerie electronic score enough to send shivers down the spine alone, while the emotionless "face" of villain Michael Myers has also become part of horror folklore.
8/10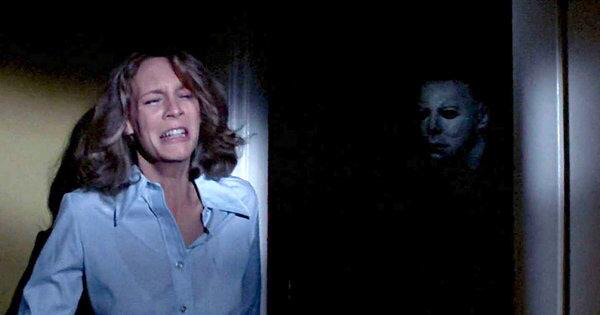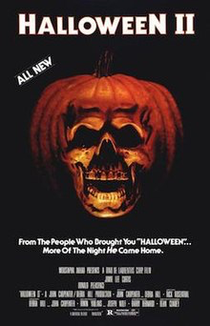 HALLOWEEN II (18)
Dino de Laurentiis (Debra Hill & John Carpenter)
W: John Carpenter & Debra Hill
Ed: Mark Goldblatt & Skip Schoolnik
Mus: John Carpenter & Alan Howarth
Donald Pleasance (Dr. Sam Loomis), Jamie Lee Curtis (Laurie Strode), Charles Cyphers (Leigh Brackett), Lance Guest (Jimmy Lloyd)
Virtual retread of the first movie, immediately following the events from the 1978 film, and mostly set inside the hospital where Laurie Strode (Jamie Lee Curtis) is recovering from the traumatic events.
The film wastes no time with any real development as it practically opened with the masked maniac Michael Myers killing random people indiscriminately and without real reason.
Jamie Lee Curtis & Donald Pleasance do a good job reprising their roles from the original film, but it does miss the directorial guidance of John Carpenter, even if he did stay on production as both producer and co-writer. A decent sequel, even if it does lie on top of the original film's blueprint. The Halloween series contained two years later, although the next sequel did not feature the same villain.
6/10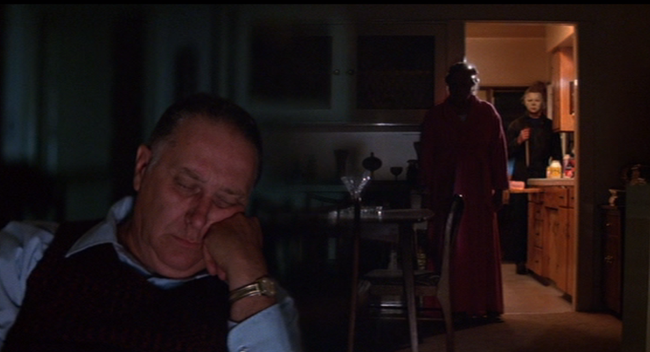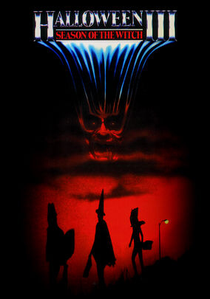 HALLOWEEN III: THE SEASON OF THE WITCH (18)
Dino de Laurentiis (Debra Hill & John Carpenter)
W: Tommy Lee Wallace [based on a screenplay by Nigel Kneale]
Mus: John Carpenter & Alan Howarth
Tom Atkins (Dr. Daniel Challis), Stacey Nelkin (Ellie Grimbridge), Dan O'Herlihy (Conal Cochran), Ralph Strait (Buddy Kupfer), Michael Currie (Rafferty), Jadeen Barbor (Betty Kupfer)
The title is a complete misnomer, since this has nothing to do with the two previous films and only makes reference to them in a blink-and-you'll-miss-it scene. 
The film itself is decent enough to stand on its own merits; a macabre scary movie about a satan-worshipping toy manufacturer who intends to restore Halloween to its witch-cult origins through masks which turn the wearer's insides into creepy-crawlies and goo.
An effective chiller, though original screenwriter wasn't impressed with the tampering of the evil toymaker character, originally inspired by Celtic myths and tradition, only to be reduced to a mad scientist.
Closer to Invasion Of The Body Snatchers than any other horror franchise and while effective, it does seem a little cheapened by TV movie production quality.
5/10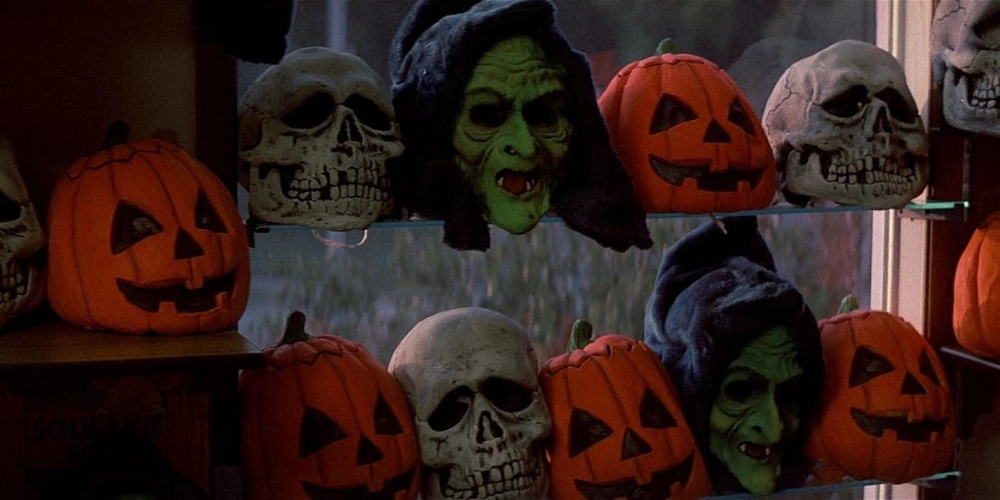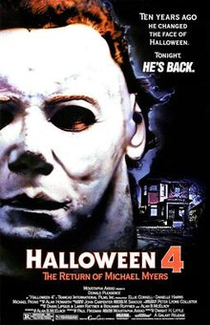 HALLOWEEN 4: THE RETURN OF MICHAEL MYERS (18)
Trancas International (Paul Freeman)
W: Alan B. McElroy [based on characters created by John Carpenter & Debra Hill]
DP: Peter Lyons Collister
Donald Pleasance (Dr. Sam Loomis), Ellie Cornell (Rachel Carruthers), Danielle Harris (Jamie Lloyd), Michael Pataki (Dr. Hoffman), Beau Starr (Sheriff Ben Meeker)
As the title suggests, the psychopathic maniac is back after 7 years (Michael Myers as the main villain was absent from the third movie), rising from a coma to continue his killing spree in the old neighbourhood of Haddonfield, Illinois.
Released 10 years after the original film, it's all rather formulaic and cliche-driven, and ends up being a step down from the first sequel with both plot and execution. Donald Pleasance reprises his role as Dr. Sam Loomis, but even he looks bored in this.
It's worth noting that this film marked John Carpenter abandoning the series and selling the rights to Moustapha Akkad & his production company, who wasted no time churning out Halloween 5: The Revenge of Michael Myers a year later, taking full advantage of the slasher craze which dominated horror movies of the 1980's.
4/10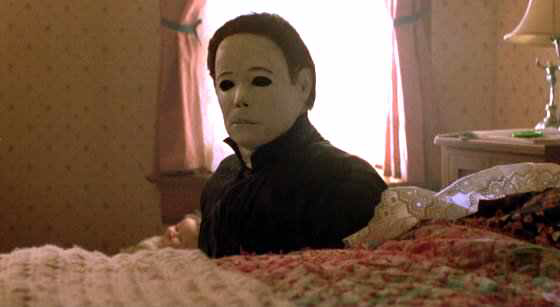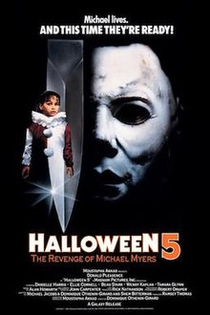 HALLOWEEN 5: THE REVENGE OF MICHAEL MYERS (aka HALLOWEEN 5) (18)
D: Dominique Othenin-Girard
Galaxy/Magnum/Trancas (Ramsey Thomas)
US 1989
97 mins
Horror
W: Dominique Othenin-Girard, Michael Jacobs & Shem Bitterman [based on characters created by John Carpenter & Debra Hill]
DP: Robert Draper
Ed: Charles Tetoni & Jerry Brady
Mus: Alan Howarth
Donald Pleasance (Dr. Loomis), Danielle Harris (Jamie Lloyd), Ellie Cornell (Rachel Carruthers), Beau Starr (Sheriff Ben Meeker), Wendy Kaplan (Tina Williams), Don Shanks (Michael Myers)
More of the same, with masked serial killer Michael Myers returning to Haddonfield once again for a killing spree, with the added incentive of murdering his niece, Jamie (introduced in Halloween 4). 
Incidentally, the ending of Halloween 4 is retconned for this fifth sequel for the narrative to make sense, but it's still lazy writing, built around the usual tropes, cliches and jump scare rubbish.
Quite possibly the worst of all the Halloween movies, released just a year after the previous sequel, it's quite apparent that this was just a rushed cash-grab.
3/10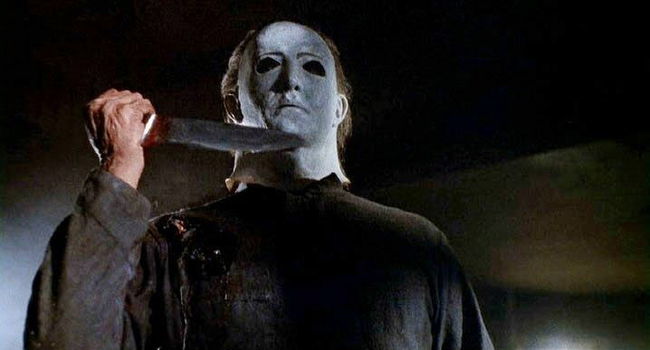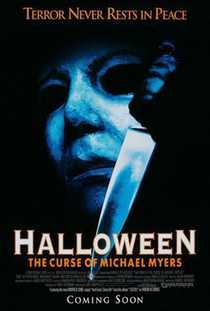 HALLOWEEN: THE CURSE OF MICHAEL MYERS (aka HALLOWEEN 6) (18)
D: Joe Chappelle
Dimension/Miramax/Trancas/Nightfall (Paul Freeman)
US 1995
88 mins
Horror
W: Daniel Farrands
DP: Billy Dickson
Ed: Randolph Bricker
Mus: Alan Haworth
Donald Pleasance (Dr. Sam Loomis), Paul Rudd (Tommy Doyle), Marianne Hagan (Kara Strode), Mitchell Ryan (Dr. Terence Wynn), Devin Gardner (Danny Strode), George P. Wilbur (Michael Myers)
The sixth Halloween film and the first to try and provide some explanation for masked murderer Michael Myers seemingly being invincible, which it does so by introducing a cult who worship the psychopath like a religious figure. If you can swallow that, you might think this is a worthwhile horror movie, but I certainly didn't. The series really had run out of steam by this point, recycling the same jump scare scenes with different cast members, the only real mainstay of the performers being Donald Pleasance, who is looking really tired by this point (he died shortly after the film's release). The film also provided an early role for Paul Rudd, but there isn't much he can do with a bizarrely written character.
Tonally, the film is an utter mess, with some strange editing choices and directorial decisions. Apparently, this was due to poor reception from test audiences, but if this is the edit after the initial cut, I'd hate to see how it originally looked.
3/10