Hacksaw Ridge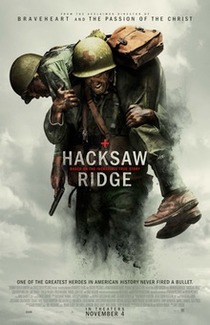 HACKSAW RIDGE (15)
D: Mel Gibson
Summit/Icon/Cross Creek (Bill Mechanic & David Permut)
USA/Australia 2016
139 mins
War/Biopic 
W: Robert Schenkkan & Andrew Knight [based on the 2004 documentary "The Conscientious Objector"]
DP: Simon Duggan
Ed: John Gilbert
Mus: Rupert Gregson-Williams
Andrew Garfield (Desmond Doss), Vince Vaughn (Sgt. Howell), Sam Worthington (Capt. Jack Glover), Hugo Weaving (Tom Doss), Teresa Palmer (Dorothy Schutte), Luke Bracey (Smitty Ryker)
Hacksaw Ridge tells the true story of Desmond Doss, a Seventh Day Adventist and conscientious objector who became a hero of World War II without even firing a single weapon.
The biographical picture starts before Doss' army days, growing up in rural Middle America and wooing a childhood sweetheart, while the middle act focuses on Doss' training for combat before the last third of the film thrusts the man into the heat of battle in Japan.  It's quite obvious that the film sheds a bit of the true story in favour of some Hollywood gloss, but the story still details a remarkable achievement.
The film provided a comeback platform for Mel Gibson's directorial career, and Andrew Garfield is deserved of the praise he received in the lead role. Both men would be honoured with Oscar nominations for their work, while the film itself was nominated as one of the best of 2016. It probably deserves a spot in or around the Top 10, but not much higher.
8/10