Hachi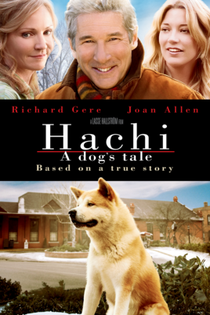 HACHI: A DOG'S TALE (aka HACHIKO) (U)
Stage 6 Films/Inferno (Richard Gere, Bill Johnson & Vicki Shigekuni Wong)
W: Stephen P. Lindsey [based on the screenplay 'Hachi-ko' by Kaneto Shindo]
Mus: Jan A.P. Kaczmarek
Richard Gere (Parker Wilson), Joan Allen (Cate Wilson), Sarah Rohmer (Andy Wilson), Cary-Hiroyuki Tagawa (Ken Fujiyoshi), Jason Alexander (Carl Boilins), Chico / Layla / Forrest (Hachi)
Hachi: A Dog's Tale is a heartwarming family movie based on a 1987 Japanese movie, which in turn is based on a true story which occurred in Tokyo in the early 20th century.
A music professor finds an abandoned Akira puppy at his local train station, and after a fruitless search to locate its real owner, take it in himself, beginning a beautiful bond between man and his best friend. 
When tragedy strikes, the bond is tested, making the dog a legend in the picturesque social community.
Though some moments of the film are quite predictable, the delivery never feels contrived or manipulative. 
It's clear to see that this was a pet project (forgive the pun) for Richard Gere, who also produced, but the true star are the animal actors who portrayed Hachi.
If you're an animal lover, particularly dogs, this is a film which will tug on the heartstrings throughout.
8/10