A Hard Day's Night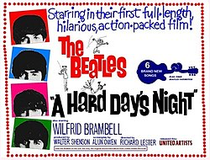 A HARD DAY'S NIGHT(PG)
D: Richard Lester
United Artist (Walter Shenson)
UK 1964
85 mins
Comedy/Musical
W: Alun Owen
DP: Gilbert Taylor
Ed: John Jympson
Mus: The Beatles & George Martin
John Lennon (himself), Paul McCartney (himself), George Harrison (himself), Ringo Starr (himself), Wilfrid Brambell (Grandfather)
A day in the life of The Beatles, as they journey from Liverpool to London in this comic fantasia filmed at the height of Beatlemania.
Though the plot simply has the Fab Four playing themselves, they don't dumb down their on-screen counterparts in a way we've seen in other promotional films for pop bands (Spiceworld, a fine example) and the film is nothing like the cynical cash-grab it could have been. In fact, the screenplay has several funny moments, and was even good enough to be nominated for an Oscar. 
It helps to like their music, but even if you don't, this makes for a fine piece of classic British cinema. The album isn't too shabby either.
8/10