The Guard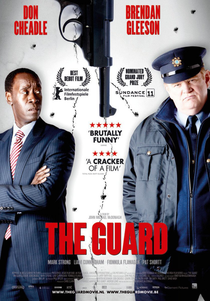 THE GUARD (18)
Studio Canal/Element Pictures/Irish Film Board/Reprisal/Crescendo (Chris Clark, Flora Fernandez-Marengo, Ed Guiney & Andrew Lowe)
Brendan Gleeson (Sgt. Gerry Boyle), Don Cheadle (Agent Wendell Everett), Mark Strong (Clive Cornell), Liam Cunningham (Francis Sheehy-Skeffington), Fionnula Flanagan (Eileen Boyle)
A mismatched cop caper with a twist. 
In rural Ireland, Brendan Gleeson plays one of the Irish guard, a hard-drinking, heavy-cursing, prostitute-shagging policeman who speaks his mind, even if some of his views cross the borders if casual racism. 
Investigating a drug trafficking operation, he is partnered with American FBI agent Don Cheadle, who is the fish-out-of-water in this darkly comic thriller.
Had American shores produced this, the focus would have been on Cheadle's character, but Gleeson is without doubt the star of the show here, with an excellent central performance.
7/10